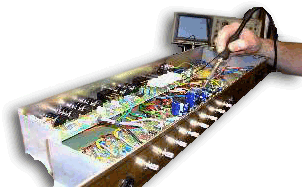 As a dealer in a very large amount of used musical equipment, it goes without saying that technical excellence in our repair department is crucial to us.
We have to inspect everything we buy and make sure it's in perfect working order before it goes out to customers. Our 90 day warranty is proof of the confidence we have in our technicians being the best.
We have recently revamped our repair department to handle a larger volume of repairs and become more customer friendly. We have two energetic and highly experienced technicians working for us.
Clark Joffe is the head of the repair department. Clark has an extensive background in analog synths, but can handle anything you throw at him.
• The charge for repairs is $95 per hour.
• A $30 non-refundable deposit is required for an estimate, which is deducted from the final bill if the item is fixed.
• We are authorized by Akai, Tascam, Yamaha, Korg, Roland and many other manufacturers.
• Add a 250 meg internal Zip drive to your MPC2000XL for $129.
• SIMM chips for all kinds of gear are in stock.
Guitar and Bass Setups
Ulrich Salazar has many years experience getting guitars and basses to tune and play as perfectly as possible. Former guitar tech to Walter Becker of Steely Dan. Walter was a regular customer at Rogue and, as many of you may know, very particular about his gear. We're pleased to have Ulrich performing his magic here at Rogue.
• Guitar Setups: $65 including strings
• Bass Setups: $85 including strings
Email us any repair questions.